On Sale
Power Hub - Personalized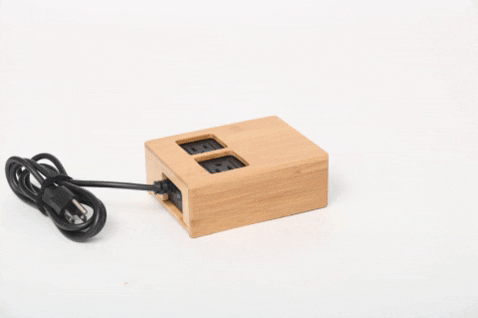 Transform a mess of cords and cables into a beautiful charging station with our Power Hubs. Our Power Hub packs a lot of power into your desktop, table, or nightstand, charging up to 7 devices using only ONE wall outlet. Create an upgraded, visually pleasing alternative to standard, plastic power strips with our patented Power Hub.
Redefining Power: The Power Hub by GUS

Power With An Innovative And Unique Design

 

-- Our patented design packs a lot of power into your desktop with 5-USB Ports and 2-AC Ports. Plug in laptops, desk lamps, printers, etc. into the 2-AC Ports in the back and all your other smaller devices into the 5-USB Ports in the front. Turn ugly plastic power strips into a visually pleasing alternative to standard, utilitarian power strips.

The ONLY Single-Outlet Solution On The Market

 

-- Our patented design only needs one outlet to charge up to 7 devices (including 2 A/C). Upgrade charging in your home office, on your nightstand, or on your kitchen counter.

Available in 5 Stylish Finishes

 

-- Our Hubs are available in 5 decorative finishes to complement any room; Eco-Friendly Bamboo, White Leatherette, Black Leatherette, High Gloss Polished Chestnut, and Walnut.

Used By The World's Top Hoteliers -

- Our Hubs can be found in some of the top 4-star and 5-star Hotels in the U.S.A.

High Quality Charging

 

-- Our Hubs have built-in smart charging USB ports that automatically recognize when items are plugged in, and efficiently distribute power. UL, CE CERTIFIED 2 A/C input 120-240v 50-60 HZ, 5 USB 5 V 2.4 A.

Dimensions

 

-- Measures 5.25" x 3.88" x 1.56". 

Reg. Patent #D776056. Power Charging Station ®
The design of this product is the trademark of Blockware LLC / Great Useful Stuff. Patent No D776056.
Looking for the Public Area Configuration with glued in cords? Click here.